UNI's message at Davos: We need a redistribution of power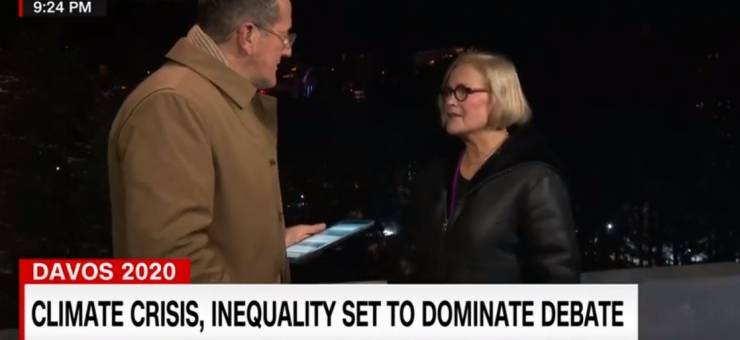 Published:
24 January 2020
UNI General Secretary Christy Hoffman brought a powerful message to the CEOs and world leaders convening in Davos for the 50th annual meeting of the World Economic Forum:  "Unless this crowd is willing to give up some power and share it, it's not going to get better," Hoffman told the New York Times during the summit.
That power, said Hoffman, should be redistributed to working people. "There is no solution to our most pressing problems— environmental degradation and widening inequality —without unions and collective bargaining at the core."
During panel discussions on topics ranging from Social Development Goals, the future of healthcare, and human capital, Hoffman reiterated her demand for a fundamental power shift between corporations and workers.
"Employees are the most important stakeholders for companies, and they must have a real say in their working lives, not just crumbs handed down to them by employers," she said.
Part of that say must be around a just climate transition. With the climate crisis dominating the WEF's risk report, Sharan Burrow, General Secretary of the International Trade Union Confederation (ITUC), wrote that "this is the year when all actors – businesses, labour unions, civil society, local authorities and governments – have to join forces to increase action if they do not want to be silently complicit in climate catastrophe."
The global labour movement shouted from the mountain that world needs more ambitious and systematic solutions to global problems that go beyond the predictable corporate-friendly prescriptions popular in previous editions.
The call for change grabbed headlines from CNN, the German news agency Deutschen Presse-Agentur and dozens of international outlets.
Hoffman emphasized that "if we are serious about addressing global threats like rising income inequality and the devastating effects of climate change, workers will need to be heard. It further fragments our already polarized world one group bears all the burden of disruption."