Limit Amazon's power, says report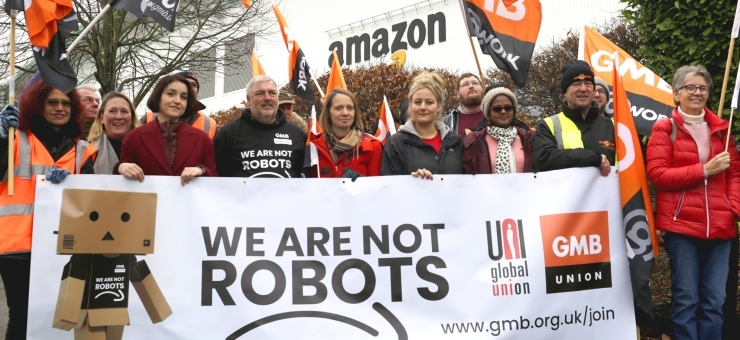 Published:
5 February 2020
Key stakeholders at Amazon came together to demand action to limit the company's power at an historic symposium in Brussels in December 2019. Now, a report from the global symposium lays out the critiques and solutions to the company's growing control over today's economy and society.  
Amazon is now the world's biggest online retailer and largest provider of web services, making a profit of US$10.5 billion in 2019.
"Amazon has become too big and too powerful. It has trampled over workers' rights, crushed independent retailers and manipulated legal loopholes to avoid paying tax – all the while making billions of dollars in profits. Amazon must stop exploiting workers, customers and the environment, and start paying back into society," says the UNI Global Union report.  
The symposium, organized by UNI and the International Trade Union Confederation, brought together trade unions, climate activists, tax experts, NGOs and legislators for the first time for a meeting on Amazon in Brussels on 2 December.
The report highlights stakeholders' mutual concerns over Amazon's poor record on labour rights, the marketplace, the climate crisis, privacy and digital rights, and tax avoidance. It calls for action to:
Break up Amazon, and for an urgent overhaul of competition legislation to adapt to global online platforms
Improve labour rights and working conditions through stronger social protections
Make Amazon recognize trade unions and engage in collective bargaining
Ensure Amazon pays tax where it earns
Pressure Amazon to reduce carbon emissions from e-commerce and data centres, and stop using its technology to empower the oil and gas industry
Establish comprehensive privacy laws that protect personal data and prevent surveillance capitalism
UNI General Secretary Christy Hoffman, said:
"Amazon's unparalleled control over the marketplace, the web and our personal data is a genuine threat to democracy. But this report shows that trade unions and civil society are coming together from across the world to challenge Amazon's power. It's time for action to make Amazon pays its fair share of tax, improve working conditions, and reduce its environmental impact."